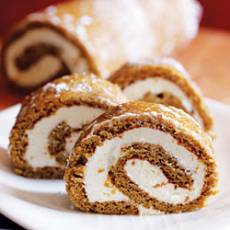 There are very few things about Fall that thrill me. I'm in LOVE with the autumn colors, but wish they hung on for a bit longer. I'm mostly alright with the cooler temperatures, barring there be no temps under 50º. And I can even tolerate the wave of grey that washes over any trace of sunshine. But still, none of the above thrill me. What you ask does thrill me? FALL BAKING!! So far this season, I've conquered a few of the token autumnal dishes.
Pumpkin Roll - Check. Acorn Squash - Check. Apple Crisp - Check.
Is there anything better than the smell of cinnamon, nutmeg, and pumpkin filling the house?! Nope! Turns out, Grace loves all things autumn too! I try not to give her too many sweets, but have a hard time denying her when her little mouth starts to water! She loved all of the above, but I think the squash was her favorite!